How to Set Up Abandoned Cart Emails on Your Shopify Store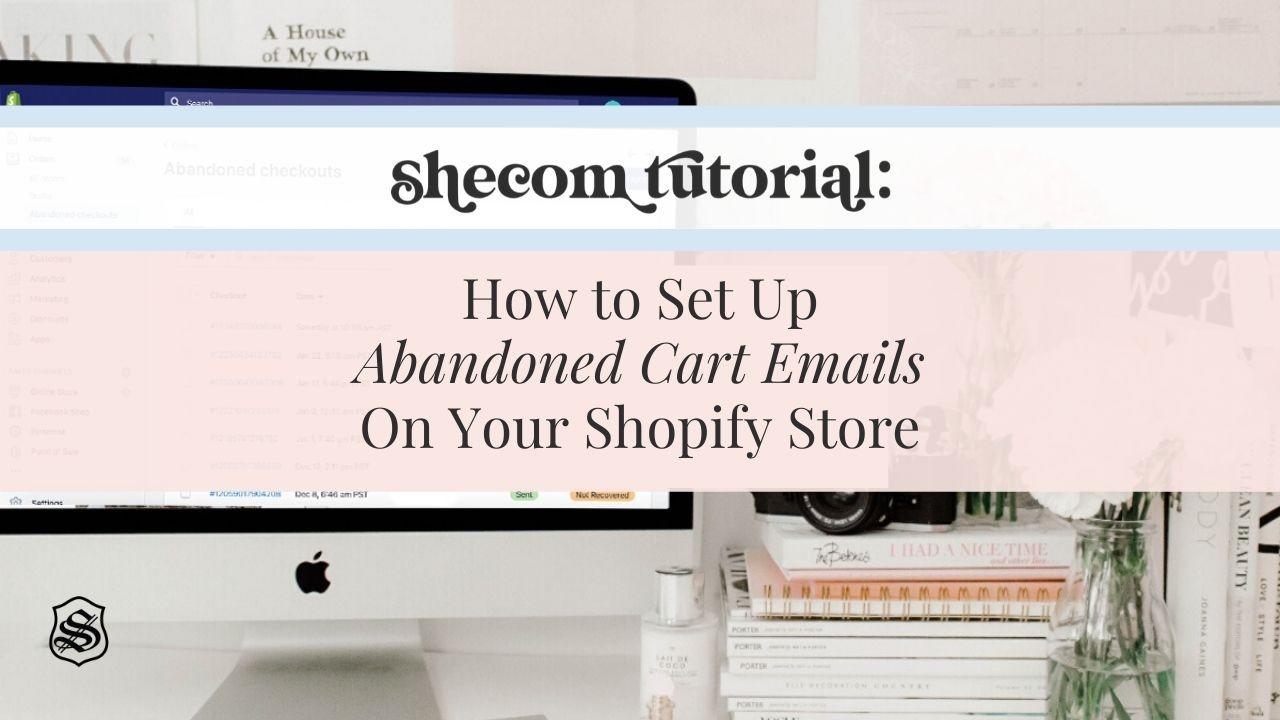 When - or if - you have looked at your abandoned checkouts under 'Orders' in your Shopify store, you might be overwhelmed or disappointed - but don't freak out! This is totally normal. According to a Baymard study, the average online store has a cart abandonment rate of almost 70% - so it's not unusual and you are not alone! The good news is, we're here to help you discover some of the common cart abandonment reasons and to help your business prevent it as much as possible. We'll also take you step-by-step on a few different ways to review and recover these abandoned carts through Shopify, getting your customers re-engaged and ready to shop!
Just to clarify, an abandoned cart happens when a customer is shopping on your site, adds an item (or items) to their cart, but then does not follow through with the purchase. There can be a number of reasons as to why this happens - we've all been there before for one reason or another! However, here are a few of the most common reasons, and luckily, we have ways to fix them!
A customer may have intended to purchase but a high shipping cost, or slow shipping speed may have stopped them. It's also common for online shoppers to add the items they want to their cart just to check and see what their total price would be after shipping and taxes are accounted for.
A customer may have added the item to their cart with the intention of purchasing, but became distracted and never got back around to completing their order.
A customer may also could have added an item to their cart with the hope of receiving an email offering a discount or upcoming sale to save money.
Regardless of the reason, the important thing to remember is the customer obviously liked your product enough to even add it to their cart in the first place. The question is, how do you cut down on these cart abandonments and recover the purchase? Let's get right to it.
---
Keep in mind that turning a browser into a customer is cheaper than trying to find a new customer to market to, because the browser is clearly already interested! Spending the time to recover abandoned carts will absolutely pay off by

increasing sales

. It can boost your store's revenue just by simply following up with the customer and encouraging them to complete their purchase.

You can learn a lot about your products and pricing by recovering abandoned carts. For instance, if offering a product discount is effective at recovering abandoned carts then that might tell you that your product pricing could be too high for your average consumer. Or if you notice that customers from the same region keep abandoning their cart then that could mean your shipping costs are too high.

A huge mistake or misconception that most store owners make is assuming their customers made the decision to not buy their product. Remember - even if the cart was abandoned, they still expressed interest in your product!
---

Like with all SheCom Tutorials, we like to provide you with what you should expect so you can help budget your time and money in the best way possible. You should expect to spend the following resources completing this tutorial:

TIME:
Consider time to both review & recover abandoned checkouts. The more time you spend reviewing, the more likely you will be able to discover patterns and recover the orders. As a best practice (especially in the start of your business) plan a time once a week to go through your abandoned checkouts and create an action plan.
MONEY:
Some store owners may decide to offer discounts or free shipping as a way to encourage a customer to complete their order so it's important to know what discounts you can give.


---

Reviewing Abandoned Carts in Shopify
You can review your abandoned checkouts in Shopify in just two simple steps. Use this function to discover patterns that might suggest why your customers aren't completing orders.

Note: Abandoned checkouts are saved in the Shopify admin for three months. Every Monday, abandoned checkouts that are older than three months are removed from your admin.
Step 1 - From your Shopify admin, go to Orders.
Step 2 - Click Abandoned Checkouts.
Viewing Payment Events in Abandoned Carts
Anytime a customer tries to pay for their order, a payment event is noted in the history of the abandoned checkout. You can expand payment events to see more details. This can be helpful to see if the customer was actually trying to place their order but their payment failed.
Note: If your customer contacts you because their payment doesn't work at checkout, then you can view the details of the payment event, and use the information to help your customer.
Step 1 - From your Shopify admin, go to Orders > Abandoned checkouts.
Step 2 - Click an abandoned checkout and scroll to History.
Step 3 - Click on the payment event you'd like to view.
Encouraging the Customer Through Email
Shopify allows you to manually or automatically email a customer a link to their abandoned cart so that they can complete their checkout if they choose. This is especially great to remind those customers that just got distracted and forgot to complete their purchase. However, these reminder emails are effective for any abandoned cart - some businesses may consider offering discount codes, exit offers, or security badges as an extra step of encouragement for the customer.
Option 1: Manual Emails
This is a sure and simple way to collect emails of shoppers who are clearly loving your brand - they're buying something! If they are already hooked, they're more likely to want emails to keep them updated on your new products and sales.
Step 1 - From your Shopify admin, go to Orders > Abandoned Checkouts.
Step 2 - Click the number of the specific checkout you want to recover.
Step 3 - Click Send a cart recovery email.
Step 4 - Optional: You can enter a custom message and click the box beside each email address you want to send a copy to.
Step 5 - Click Review Email and look over your email before sending. Then click Send Notification, or click Back to make any changes.
Option 2: Automatic Emails
The automatic emails are sent to customers after they have abandoned their checkout. Each email contains a link to the customer's abandoned cart, allowing them to complete their order. You can edit the email template by adding a logo or changing the color scheme.
Note: There are seven circumstances in which an automatic recovery email will not sent (See Below). If you have configured your shop to automatically send recovery emails, the Abandoned Checkouts page will contain tooltips explaining why recovery emails were not delivered.
Step 1 - From your Shopify admin, go to Settings > Checkout.
Step 2 - In the Abandoned checkouts section, check Automatically send abandoned checkout emails.
Step 3 - Under Send To and select who you would like to send a recovery email to:
Anyone who abandons a checkout

Email subscribers who abandon a checkout
Step 4 - Under Send After, select the number of hours you would like Shopify to wait before sending the abandoned checkout email (the default is 10 hours). There are four other timing options: Never (in which case you can send manual recovery emails), 1 hour later, 6 hours later, or 24 hours later. Once selected, click Save.
Note: Shopify decided to only offer these time selections based on their research. They reviewed how long it took for the average abandoned cart customer to complete their orders on their own, and found that customers are more likely to return to their carts after those selected amount of times. Therefore, Shopify chose them to maximize the number of recovered checkouts - Hey, thanks Shopify for doing the research!
When Recovery Emails Won't Be Sent:
As mentioned earlier, there are seven circumstances in which an automatic email can not be sent. A recovery email will not be sent if...
The potential customer creates more than one abandoned checkout in a row, then

only one

email will be sent to that potential customer.

The potential customer creates one or more abandoned checkouts and then completes a sale before the recovery email gets sent, then the email won't be sent.

There was a payment processing error when the customer tried to complete their checkout, then the email won't be sent.

Your shop does not support shipping to the customer's address, then the email won't be sent.

Your business allows customers to enter a phone number instead of an email address at checkout (and the customer chooses to only enter a phone number) then the email can't be sent.

None of the products in the checkout are available for purchase (empty inventory, for example), then the email won't be sent.

All the products in the checkout are free, and the customer does not visit the shipping page to add a shipping fee or the shipping fee is also free, then the email won't be sent.
Finishing Up...
You can review the status of each abandoned order email by going to Orders and then clicking Abandoned Checkouts. The status of each recovery email is found under the Email Status column. The status of the abandoned checkout can be found under Recovery Status.
After an email is sent (either manually or automatically), the checkout will only be considered recovered if the customer clicks the recovery link and then completes their order. If a customer completes an order by returning to the website and without using the checkout recovery link specifically, then the abandoned checkout won't be marked as recovered.
Just as one last reminder - these shoppers are interested! Truth is, people love shopping online for the convenience - shopping anytime, anywhere! That's why it can be super common for customers to often get distracted and forget to complete their order. Even if that's not the case, you'll only be improving your business by doing the work to discover patterns on why your customers are abandoning at checkout. The work is worth it!

Don't Miss Our FREE Email Marketing Guides:
Plus! Take Your Emails to the Next Level
With Our Drag & Drop Email Templates
FREE DOWNLOAD
The SheCommerce Handbook for:
Keywords & Hashtags